$10,000 Rookwood Cemetery Sculpture Award - Joint Winner
Kate Andrews
Preserve Your Memories (They're All That's Left You)
Statement
In our daily lives we cover and wrap things to protect and preserve them – food, furniture, clothing etc. In lovingly fitting custom-made slip-covers to a group of headstones, this work brings to mind the efforts we all make to hold on to our memories of loved ones. The diaphanous appearance of the covers, and the visibility of the inscriptions through the fabric, reflect the dual nature of memory – both transient and persistent.
Biography
Kate has been working textiles for many years, mainly using surface design and machine thread drawing. Her textile works have been both published and exhibited. Her photography has also been included in group exhibitions.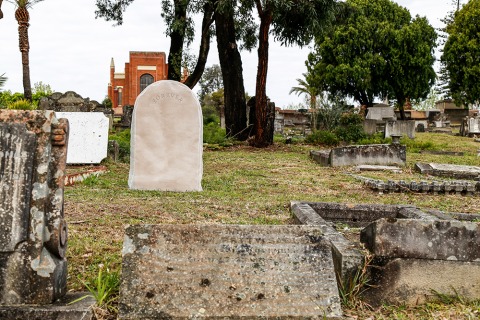 Materials
Hebel, organza and polyester thread
$10,000 Rookwood Cemetery Sculpture Award - Joint Winner
Amanda Stuart
the year of the watersnake
Statement
The battered boat that encapsulates my sculptural journey has seen better days. And yet despite its flaws, remains optimistic - empowered somewhat magically by the animal instincts that sustain its dark underbelly. The snake is a complex and potent animal signifier alluding to cyclic forces of renewal and creativity. The boat might be a metaphor for life's journey. A collision of animal and vessel manifests in a poetically transformed everyday object, designed to stimulate our imagination. the year of the water snake invites us to contemplate the privilege of life's journey, which is significantly enriched when guided by our animal instincts.
Biography
Amanda's art practice explores human relationships with the Australian natural environment, giving particular focus to contested relationships with maligned 'outsider' animal species. Previous work as a park ranger fed her fascination with animal species that humans find threatening. Amanda studied sculpture at the ANU (First Class Honors, University medal) where she also attained her doctorate in visual arts. Her project focused on wild dogs and humans in southeastern Australia. Amanda presently lectures in the Environment Studio and Foundation workshop at the ANUSOA and continues to exhibit at local, national and international levels. Amanda draws inspiration from community, environment and music.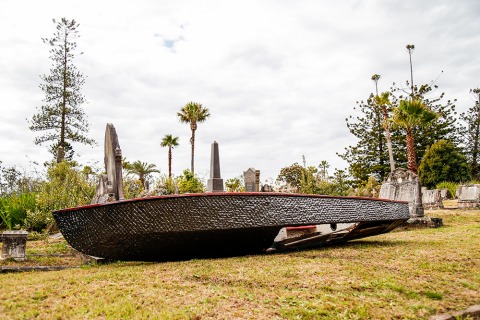 Materials
Recycled boat, recycled garden hose, graphite and recycled rope
People's Choice Award Winner
Hurlstone Agricultural High School
Eternity
Statement
Installed at ground level, Eternity is hidden within the grounds. The circular form of the sculpture references the notion of eternity. The male and female bodies lack individuality and as such, act as a universal symbol for all loved ones that have been lost: their perfect forms echoing idealised memories. The roses that seem to have grown over the bodies allude to both hope and regeneration. Roses are a symbol of love and the yellow rose is associated with memory and optimism. It is the rose of mature and familiar love. The high gloss finish of the piece references spiritual reflection, as the natural surrounds, the sky and even the audience is reflected on the surface. This is an artwork about eternal love, hope, remembrance and reflection.
Biography
Hursltone Agricultural High School is a selective, agricultural day and boarding school. The Visual Arts department is interested in engaging students in authentic tasks for broad audiences. The students have successfully exhibited in a number of public exhibitions, including Harbour Sculpture and Sculpture in the Vineyards. The students were awarded first place in 2015 Royal Agricultural Society Produce Display competition and were named National Grand Champions in the 2014 Archibull Prize.
SOPA Artist at the Armory Award Winner
Madeline Challender
Memory Forms
Statement
Geometric salt forms trace shapes and structures of spirituality that emerge in personal and social consciousness. Within nature, they transform over time, sometimes encrusting and crystalizing, other times dissolving in pools of memory and its resonance. As the salt crystals dissolve in the changing environment they reveal solid stone beneath. Their weight and connection to the earth, the way they hold impressions of time like years of ocean waves washing upon a shore and sinking into carved rock, says something of the substance that unites and grounds our humanity, when we come to moments of stillness, when we are neither physical or spiritual, but something that holds us beyond our individual time.
Biography
Madeleine was born in Sydney, and attended Canberra School of Arts, 1996-1999. Her earlier light installations explored dynamic systems, and processes of consciousness and nature. Over the past eight years she has lived in regional and remote Australia and overseas, coordinating community arts activities and working in various arts organisations. She has created children's books, shadow plays and interactive installations for young audiences. Now based in Sydney, Madeleine works as an art teacher whilst continuing her art practice and investigations of processes that intersect temporal and spiritual worlds.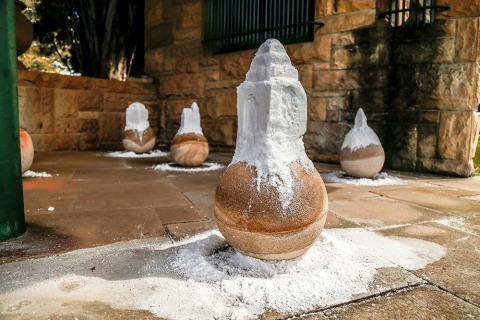 Peacock Gallery and Auburn Arts Studio Residency and Mentorship Award Winner
Karen Manning
Blanket Fort
Statement
Blanket Fort was created during my studio residency at the Peacock Gallery in Auburn under the mentorship of artist Nicole Barakat. The piece was inspired by the passage of time seen at Rookwood cemetery particularly within the older, heritage sections of the grounds. The graves being overtaken by nature is immediately apparent and autumn sees them almost completely covered with deciduous leaves. The work represents this leaf blanket being lifted quilt like off the ground exposing the power that the elements have on stone and tile. The lacework of leaves conceal a deeply personal story and the underside of fabric, stitching and beading are significant to moments in my timeline. Seasons change, decay is inevitable yet life continues.
Biography
Karen is a multi-disciplinary and eclectic emerging artist who studied art history and education at the University of Sydney. She is currently working with local schools and the community creating large scale public installation works.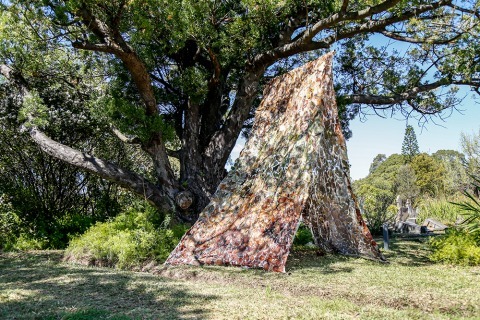 Materials
Glycerine preserved leaves, thread, netting, tulle, chiffon and glass and pearl beading