$10,000 Rookwood Cemetery Sculpture Award Winner plus Peacock Gallery and Auburn Arts Studio Residency and Mentorship Award Winner
Luke Nguyen
One Thousand Crane Wishes
Statement
One Thousand Crane Wishes is based on Japanese legend of Zenbazuru, whereby a person who makes 1000 Origami paper cranes will be granted a wish by the gods. These sculptures are created from twigs found locally, bound together by red threads; spiralling outwards like a flock of birds taking flight. These forms suggest family connections, an acknowledgement to my family members for their assistance in the process of making these 'crane wishes'. Furthermore, this process itself is a way of communicating non-verbally, an unspoken appreciation for their presences, dwelled deep in family values; just like a wish, implying that every gift of life is a precious wish granted.
Biography
Since his completion of a Bachelor of Visual Arts from Sydney College of the Arts (SCA) in 2010, Luke Nguyen has worked across the disciplines of photography, video, Haiku (poetry) and computer generated imagery. He has exhibited in various galleries across Sydney, including exhibitions at Gaffa Gallery and Gallery Red. Luke's most recent exhibition Lumenal utilised computer programming codes and Haiku to generate an interactive video, which was shown at TAP Gallery in conjunction with Sydney Vivid 2017.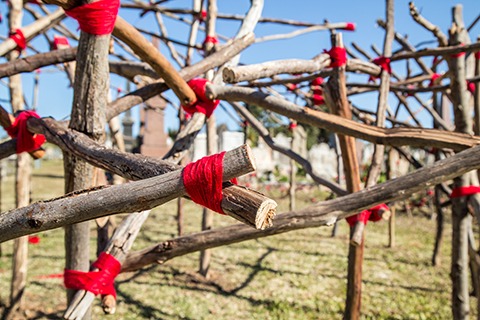 SOPA Artist at the Armory Award Winner
Fraser the Razor
Retaining Tradition
Statement
The work is a true celebration of the Harris Tweed story and pays a fine tribute to the 'Big Cloth' which has, for centuries, been dyed, spun and hand woven by weavers at their island homes in the Outer Hebrides of Scotland. The skull pays an unmasked tribute to the darker chapter of the Harris Tweed story, when the thriving success of the industry fell and work for weavers became almost scarce. Many of the finest stories bear their own 'rock bottom' chapters. Thankfully, the people of the Harris Tweed industry used that rock as their re-starting point; it was the resurgence of something, once again, great. Special thanks to www.harristweed.org for their support with this project.
Biography
Originally from Scotland, Fraser the Frazor graduated with a BA in Product Design. After becoming an Australian resident in 2014, he moved into the contemporary sculpture scene, assisting in artist studios and working on outdoor sculpture exhibitions. More recently, he has begun exhibiting his own works at the Blue Mountains Cultural Centre, the Northern Beaches Creative Space and collaborated with other sculptors as part of Major Artery.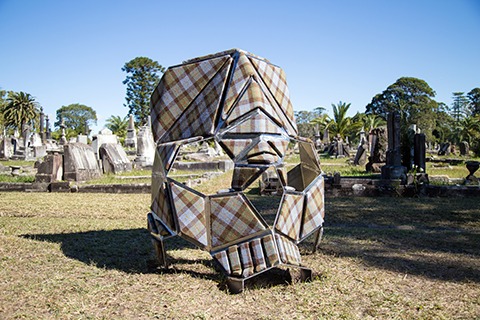 Materials
Harris Tweed, mild steel, plywood and underlay
Highly Commended
Louis Pratt
Consumption
Statement
Consumption draws upon the Biblical motif of the Apple, highlighting the consequences of consuming the natural world. These apples are made from coal and metal leaf, resources that makes Australia rich. As in the biblical story mankind was cast out of Eden, Consumption shows there are environmental consequences for our actions.
Biography
Represented by Nanda Hobbs Contemporary. Louis Pratt completed an undergraduate degree with first class honours in sculpture at ANU school of art in 2000. He went on to complete his MFA at the UNSW COFA in 2003, where he lectured in sculpture for 12 years. He has won several public sculpture awards.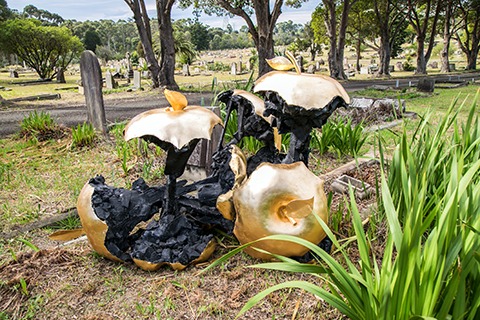 Materials
Timber, found objects, coal, resin, steel and gold leaf
Commended
Peter Hardy
Meditation Forest
Statement
Last year I was in and out of St Vincents hospital for six months undergoing chemotherapy. One particular night as I was meditating, a visual arose of a grove of light pulsating with words and numbers. These related to my meditation practice. Breathing in and breathing out as a meditation created a strong yet relaxed attitude to this slow moving nightmare. The imagined grove of light created a strong and a relaxed counterpoint to the fear. I resolved then to make this work in the future. Meditation Forest is for me a reminder and an affirmation of the power of meditation in the healing process. Meditation Forest uses Holly trees, which were weeded out by Ken Hamilton, from his and Linda Raymond's property as part of a bush regeneration program. The bark was stripped by their three pet goats, Boris, Benny and Ziggy. Sponsored by Porter's Original Paints.
Biography
Peter Hardy has consistently incorporated and supported the use of recycled elements into his artwork. Layered with personal symbols and text, his works often reference meditation and reflection. He has exhibited in Sculpture by the Sea four times, Sculpture in the Vines twice and the Casuarina Sculpture Prize. He has been a finalist in The Blake Prize five times (three touring) and the Wynne Prize.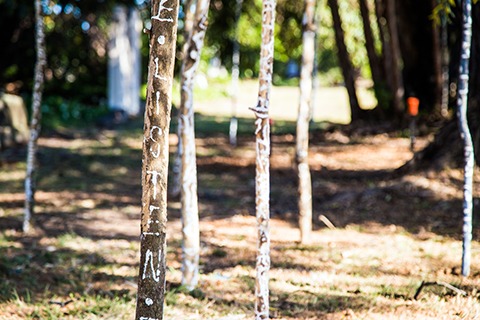 Materials
Recycled Holly trees, glass and paint
Commended
Jane Gillings
The Pearly Gates
Statement
Borders, fences, gates. Keeping things in, keeping things out. We all live in enclosures of our own design be they expansive or restrictive. Having a physical structure to define a space often serves no one and just seems to make the people on the inside of the gates feel more fearful, and the ones on the outside, less trustworthy. When people are assumed to be a threat, they often become one. Exclusivity here on earth or in an afterlife is a dangerous proposition.
Biography
Jane Gillings has been a practising artist for over 30 years. She has been a finalist in a number of outdoor sculpture exhibitions including Sculpture at Scenic World, Sculpture at Sawmillers, Sculpture in the Vineyards, the Willoughby Sculpture Prize, and the North Sydney Art Prize. She has been selected over ten times for Sculpture by the Sea and represented in the Woollahra Small Sculpture Prize. She is a casual artist-educator at the Art Gallery NSW, National Art School, NSW Department of Education, Australian Museum, local councils, private colleges and schools. Her work is sought-after for public and private permanent and ephemeral commissions including, Dolby Sound Australia, Parramatta Council, Brookfield Australia, Royal North Shore Hospital, The Galleries Victoria and M&C Saatchi Sydney.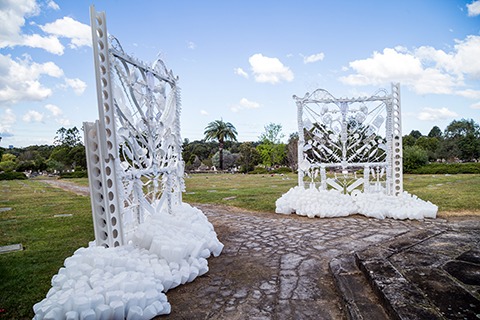 Materials
Found and discarded plastic and metal objects and steel pipe
People's Choice Award Winner plus RGCRT Staff Choice Award Winner
Wendy Edwards
Raven's Return
Statement
The Raven is a Gothic poster bird, depicted as a harbinger of doom; flocking above battlefields, appearing where death is destined to happen - A dark and gloomy portent. Some ancient folklore however, has the Raven as the bringer of news; renewal and remembrance; a white raven chasing daylight for Apollo until he scorched his wings; representing remembrance in Norse, resting on Odin's shoulders to whisper news and tidings of the broader world. Some aboriginal belief has a trickster; a guide offering warnings to the living; or, leading the dead on their final journey.
Biography
Wendy Edwards is a Tasmanian artist, her studio is nestled in bushland in southern Tasmania. A self-taught mosaicist, Wendy is known within the national and international mosaic world for her uniquely different style of work. Wendy has completed fourteen local government and council public artworks with a steady flow of private commissions. Wendy conducts workshops interstate and has been invited as a presenter for an international mosaic symposium to be held this year in Hobart.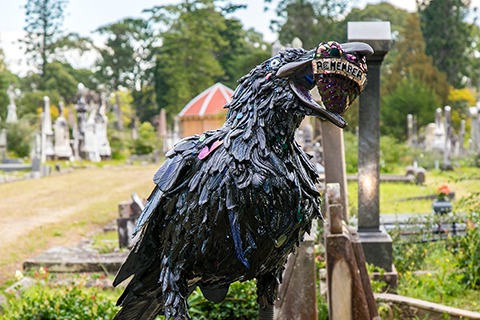 Materials
Ceramic and glass beads and metal