SOPA Artist at the Armory Award Winner and Highly Commended
Kenneth Lambert
Apparition
Statement
Kenneth Craig Lambert (KCL) is a contemporary artist who explores the human psyche and its relationship to technology. He achieves this by utilising algorithms and sound frequencies to create time and space which entices the viewer into a meditative state. Most recently KCL has turned his attention to big data and its potential impact on our sense of identity and autonomy. His practice is evolving from screen based to installation and interactive public works.
Biography
Kenneth Craig Lambert (KCL) is a contemporary artist, an international award winning designer and film director born in Cape Town, South Africa in 1971. Over the last 5 years his creative focus has shifted to the arts, with his first solo exhibit in 2016, Primitive Shadows. In one single show Lambert established an articulate platform for his arts practice which encompasses digital media and public installations. *He has most recently been finalised in the 40th Alice Prize with his immersive video work, "The Crucible".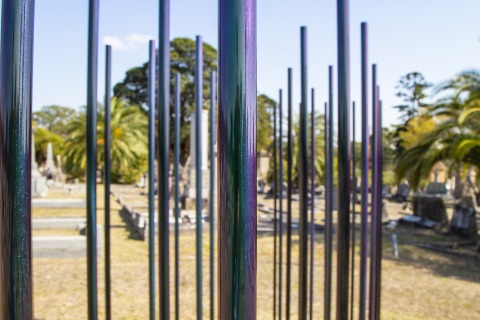 Materials
36 Painted Aluminium stems
$10,000 Rookwood Cemetery Sculpture Award
Rose Hawker
A Memorial to the Monument
Statement
A Memorial to the Monument is born from a fascination with emorialisation and monumentality. Traditional forms of public monuments are being questioned and as we gain a greater understanding of how history changes the people/events/subjects we memorialise, we are looking for more appropriate ways to deal with memorialisation. These empty plinths can be seen to honour the traditional monumental form in style and material. However, the emptiness references the redundancy of traditional monuments and how their style over substance enables the collective forgetting of history as opposed to engaging the viewer and encouraging reflection.
Biography
Rose Hawker moved to Melbourne from the UK in 2014 to complete a masters in Art in Public Space at RMIT and graduated in 2015. Rose previously gained a BA in Fine Art from the University of Plymouth, UK. Her work is largely sculptural and in recent years she has developed a real love of working in bronze. Materials and process play an integral role in her work, along with the use of scale and narrative.
$1,000 Elite Funeral Directors Award
Miho Watanabe
Awareness of Between-ness: Katami once a possession of deceased
Statement
My obsession with 'between-ness' started whilst I was a professional photographer. I explored the space between a subject and the camera as an energy flow. Living in Australia for nearly half of my life, I missed funerals of my relatives and friends back in Japan: the communal sharing to honour and to appreciate the life of the deceased. Katami is an object once a possession of deceased, kept as a memento or remembrance in Japanese culture. Katami represents the visualisation of the 'between-ness': an energy flow and interconnectedness between the deceased and the living. Reflected light shines through these works only when sunny, and not visible on cloudy days. This represents that to be aware of between-ness is impermanent.
Biography
Miho Watanabe is a Japanese/Australian Diaspora artist who focuses on awareness of between-ness, as a reciprocal energy that flows between a subject and herself. She completed her MFA at UNSW in 2015. She received the Australian Postgraduate Award for her MFA and University scholarship for her PhD in Visual Arts at ANU. Her work was selected for North Sydney Art Prize 2017, BOAA 18, Contemporary Art Prize, and Ravenswood Emerging Award in 2018.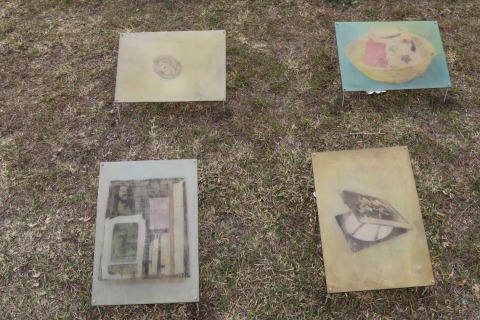 Materials
Silk, metal, perspex and plastic
Highly Commended
Ulvi HAAGENSEN
The Mourning Sweeper
Statement
My father lived in Sydney and when I heard of his death I was more than 15000 km away in Tallinn. It was too early in the morning to contact a travel agent to organise a flight, so what did I do? I washed the kitchen floor. On my hands and knees, I wept as I scrubbed, paying attention to every small detail. I was fully present. It wasn't physical distance that separated us now, but a distance that was far, far greater – the difference between life and death.
Biography
Ulvi Haagensen, born and trained in Sydney, has a background in drawing and sculpture. Based in Estonia since 1999 she is a PhD candidate doing artistic research at the Estonian Academy of Arts and is currently a Visiting Research Fellow at the University of Sydney. She has exhibited in Australia, Estonia, Lithuania, Sweden, Finland, Hungary, Latvia, Russia and South Korea, and has work in public collections in Australia and Estonia. With the bricoleuse, an inventive amateur who uses whatever is available, as the pivotal figure in her art practice she investigates the boundaries between art and everyday life by merging embodied experiences of mundane domestic tasks, everyday aesthetics and art-making.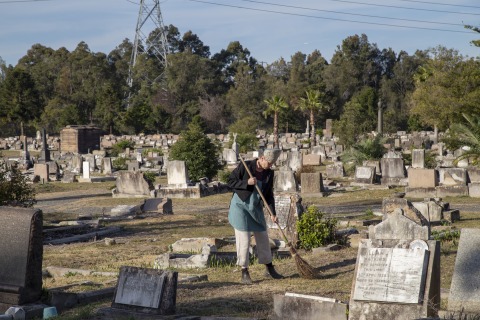 Materials
Brooms: Bamboo, wood, twigs and wire
Dimensions
Brooms: 200 x 28 x 28 cm each
Flickering Stone Award Winner
Lynn Dennison
Dress, Sea
Statement
This film explores the trajectory of the body moving between land and sea, and between culture and nature. A woman, wearing a paper and wire dress sculpture, walks slowly into the sea, until she disappears, submerged underwater. The work references the merging of culture and nature; the unwieldy and inflexible dress signifying a cultural encumbrance developed to distance ourselves from nature, and the desire to allow natural elements to destroy it. It serves as a reminder that the sea has claimed much that humans have made.
Biography
Born in Cumbria, England, Lynn now lives and works in London. She studied B.A. Fine Art at the Slade and completed an M.A. in Fine Art at Central Saint Martins. Her work has been commissioned and supported by grants and awards, and exhibited nationally and internationally. She has participated in workshops, talks and events. Recent exhibitions include Human Traces at Flowers Gallery, New York, Clepsydra at Birmingham University, Waterfall and Border Country at De La Warr Pavillion. She is currently Head of Foundation at the Art Academy, London and Artist in Residence at the Florence Trust, London.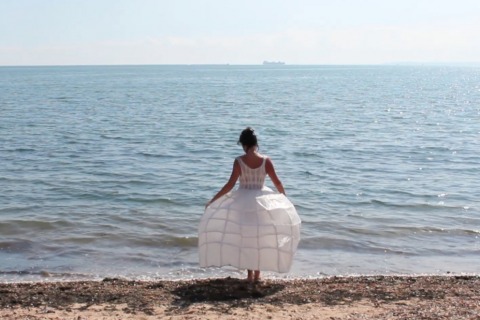 Peacock Gallery HIDDEN Moving Image Award Winner
Gillian Kayrooz
Surveillance Over Scrutiny
Statement
Surveillance Over Scrutiny is a collation of verbatim conversations overheard in the public sphere, commenting on the constant surveillance of contemporary daily life and conversing in a digital age. It is a transformed public exchange ranging from general recounts of shopping lists to passionate stories of love or loss, all of which heightened my encounter with a stranger to a personal level, baring witness to their thoughts, concerns and feelings. Transformed through scanned transcripts on handmade receipts that pass each other by in a black abyss-like void, they consume the viewer into a haunting nothingness of everyday conversation and observation.
Biography
Gillian is completing her honours year of a Bachelor of Visual Arts (Honours) at Sydney College of the Arts. Gillian's video art was exhibited at the Museum of Contemporary Art, Sydney in 2016. She has completed a residency at the Chengdu Academy of Fine Arts in China as well as at Red Rattler Theatre in Marrickville where she hosted her first solo show Y3LLOW SUN BAY RUN. Gillian most recently completed her second solo show, Hot Girl Grotty Kebab, at Gaffa Gallery which saw her work enter multiple private collections. She is currently represented by the Love Letter.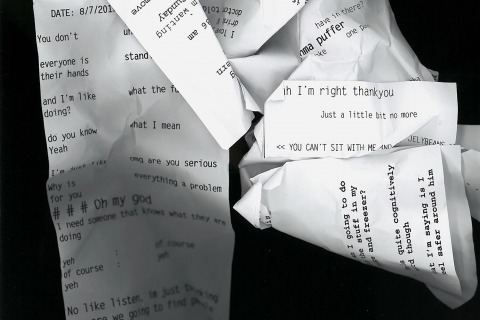 Peacock Gallery HIDDEN Moving Image Award Winner
Nancy Liang
Ticket to Rookwood
Statement
Ticket to Rookwood is a looping three panel site specific artwork celebrating Rookwood Cemetery's railway histories. It visually documents the stations across cemetery line, such as Central No.1 Railway Station and Mortuary Stations No 1 - 4. They played an integral part in transporting the deceased to their resting places. Today these structures are now removed: remnants of its windows and doors of some ominously stand like gateways to the otherworld. The moths, (drawn loosely from a Chinese belief) are souls of deceased buildings and people, departing through these entrances into the next world.
Biography
Nancy is a Sydney-based illustrator whose work focuses on Australia's urban history and forgotten places in suburbia. Her practice lies in the moving image where she create animations and looping GIFs. Nancy has worked on projects with clients such as SBS Australia, The Powerhouse Museum and Transport for NSW, and received a number awards from national and international annuals such as Illustrators Australia, The World Illustration Awards and The Society of Illustrators. Recently, Nancy has been invited to exhibit and speak at Shape Seminars as part of Sydney Design Festival 18 at The Powerhouse Museum.
RGC Staff Choice Award
Barak Zelig
Hidden from Us
Statement
When people talk about near death experiences, we hear about a tunnel of light and not about the stairway to heaven and if our spirit travels will it then have a shadow? If the stairs really exist, then how will we be reflected in these stairs and what is reflected? Do we see ourselves as we are conditioned to think since we can only see our physical bodies and not our spirits? Are all spirits the same and only the physical body is different? Does our spirit look exactly like us or another person reflected in the stairs?
Biography
Barak is a skilled sculptor, printmaker and designer. He studied overseas and at the ANU School of Art and Design Canberra and University of Technology Sydney. Barak has exhibited widely since 1988 and participated in many exhibitions including Sculpture Bermagui, Lake Light Sculpture Jindabyne, Sculpture in the Paddock Yass, Clearwater Sculpture Queanbeyan and selected for inclusion in Contour 556 Festival Canberra which will be held in October this year. Barak participated in many art exhibitions and competitions in Europe, Asia, and America.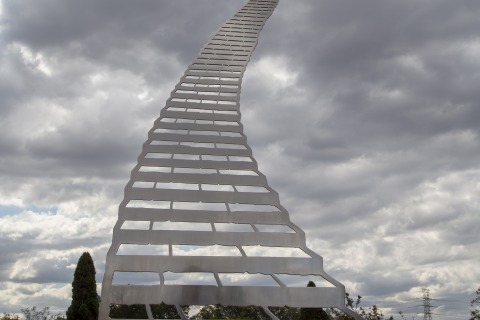 People's Choice Award Winner
Julianne Smallwood
Sleeping With The Fishes
Statement
An expression famously used by gangsters, the title of this installation Sleeping With The Fishes is a tongue in cheek reference to those residing in the cemetery. The symbol of the fish has many meanings going back to ancient times, however the meaning this piece holds is one of community, spirituality and life itself. The analogy of the school of fish representing that precarious line between life and death; as it stays close in its community for protection from predators; and the transient nature of life itself, is another theme explored by this work.
Biography
Julianne Smallwood is a ceramic artist living and teaching in the northern suburbs of Sydney. She has a degree in Ceramics from SCA. In 2012 Julianne entered Scenic Worlds inaugural sculpture competition winning People's Choice Award for her collaborative installation BlueM. Julianne has been a finalist at Scenic World, Sculpture in the Vineyards, Sustainable Sculpture at Ku-ring-gai Wildflower Garden, Hunters Hill Art Prize, Artisans in the Gardens and Hidden. Her raku birds are sold in galleries around NSW. Julianne acknowledges Bruce de Mellow's metalwork assistance in the creation of this work.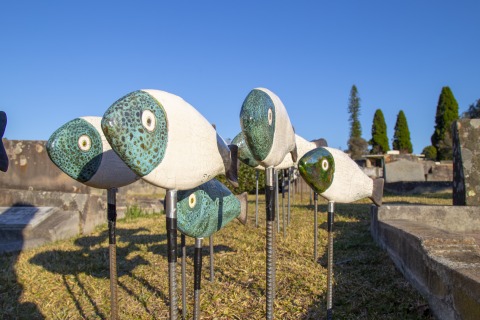 Youth Photography Competition
First Place
@yanoflies