$10,000 Rookwood Cemetery Sculpture Award plus SOPA Artist at the Armory Award
Paul Greedy
Ground-Song
Statement
My work explores the unseen dynamics of various energies, how they shape and are shaped by the physical environments in which they operate. It's almost supernatural the ways such forces propagate through matter and space, transforming as they cross the threshold between one medium and the next. "Ground-song" taps into latent electrical currents that permeate the grounds of the Rookwood cemetery site. Drawn to the surface via copper earth rods this electricity is converted into sound and amplified through the hollow bodies of metal monuments. An ethereal force emerges from the soil, and manifests in the air as an audible tone.
Biography
Paul Greedy is a Sydney based artist whose practice engages with the dynamics of energy such as resonance, transduction, and synthesis. His works explore themes of flow, connectivity, and transformation within both physical and perceptual systems. Paul completed a BFA with Honours at Western Sydney University in 2006 and an MFA at Sydney College of the Arts in 2017. He has exhibited nationally in various regional and metropolitan galleries, including Artspace, UTS Gallery, Campbelltown Arts Centre, and C.A.T. Hobart. In 2015, he was awarded the 2015 Fishers Ghost Art Award and was a finalist in the John Fries Award in 2018.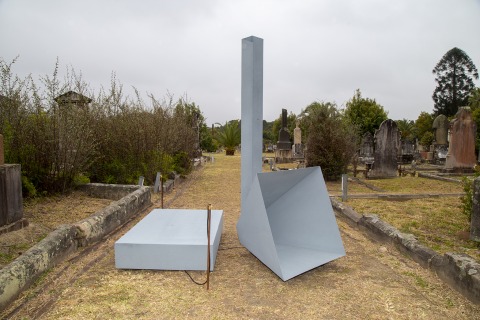 Materials
Copper, steel, electronics and audio equipment
HIDDEN Sculptures Highly Commended
Helen Earl
In Memoriam
Statement
In cemeteries, gravestone inscriptions can instil a real sense of presence of people now absent. Just a few words create an outline or shadow of someone by which they can be remembered. Flannel flowers (Actinotus helianthi) thrive in disturbed soil, where a larger plant has died and fallen the lightweight seeds can more easily germinate. New flowers grow from destruction given enough time and the right conditions. In this work over three hundred flannel flowers have been painstakingly crafted by hand from porcelain as a memorial to all the people whose memory rests in the soil of this place.
Biography
Helen Earl's practice combines ceramics with found, existent objects. She forms unique poetic responses to place, supported by cultural and scientific research. Helen has an MVA from Sydney College of Arts and her work has featured in the Australian Design Centre touring exhibition, 'Clay Intersections' and the 'North Head project', curated by Manly Art Gallery. She was also a selected finalist in the 2018 Northern Beaches Art Prize and the 2017 North Sydney Art Prize. Helen was the 2011 Artist in Residence at The Royal Botanic Garden Sydney and a 2013 recipient of a Bathurst Regional Art Gallery residency at Hill End, NSW.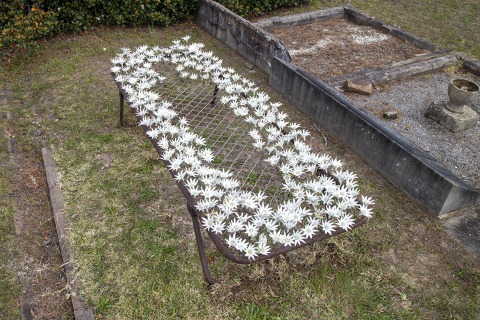 Materials
Found camp bed, copper wire and porcelain
HIDDEN Sculptures Commended
Claire Tennant
All things move towards their ends
Statement
"All things move towards their ends" engages with current discourses about the Anthropocene. The Anthropocene is a term that defines our current epoch, in which biodiversity is diminishing and ecosystems are in global decline due to human intervention. Most experts agree that human activity has dramatically accelerated the rate of species extinction and that humanity must accept their role in the decline and move quickly to right the balance. "All things move towards their ends" references this chipping away at our biodiversity, as the sculpture itself will be eaten away over time. Secondarily, the sculpture acts as a beacon of support to the local wildlife as a source of food.
Biography
Claire Tennant is a Sydney based sculptor with a background in Industrial Design, specialising in mould making, props construction, life casting, materials testing and prototyping. She has worked on a variety of productions, including feature films (animated and live action), theatre productions, broadcast commercials and animated TV series, in the UK Australia. Drawn to objects and their creation, Claire explores emerging materials and processes, which change over time and engage with wider narratives.
Materials
Steel, birdseed and edible binding agen
HIDDEN Sculptures Commended plus $250 RGC Staff Choice Award
Barak Zelig
Lured to the Light
Statement
"Lured to the light" is about the human journey and destiny at the 'end of days' tunnel, when we travel towards the light at our end of life. In Jewish mysticism, the Kabbalah, people ascend through 10 levels or passages from our existence to the infinite. Each gap in the sculpture represents one of these passages, with us being in our world on the outside, at the first passage. The last passage is where we reach the divine eternal light. There are many recorded testimonies of people who were in the tunnel but managed to come back into our world and back to life.
Biography
Barak Zelig is a Canberra based artist, who uses found objects to create small sculptures, and steel to create large sculptures. He is interested in hybrids, illusion and the unexpected. Barak has participated in sculpture exhibitions such as North Sydney Art Prize, Sculpture Bermagui, Lake Light Jindabyne, and Contour 556/18 Canberra. He won the 2014 Re-Use Award Clearwater Prize Queanbeyan, and in 2013 Barak was commissioned to create a stainless sculpture as a gift for the Canberra Centenary.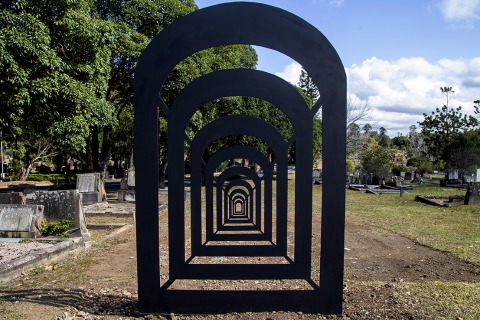 $1,000 Elite Funeral Directors Award
Renuka Fernando
Last will and testament
Statement
"Last will and testament" is a part of an ongoing investigation of the transformative power of grief. Following the death of my father this work considers personal loss, family connection and commemoration. Paper pulp has been made from shredded copies of my father's will from which seeds grow. This signifies not only the processing of grief but the constant cycle of life that continues after they are gone. The seeds will grow into edible Sri Lankan plants, in honour of my father's country and culinary culture.
Biography
Renuka Fernando is a Sydney based artist. She has a Bachelor of Architecture UNSW, a Bachelor of Fine Arts from COFA, UNSW, and Honours in Fine Arts from National Art School. Renuka has recently been a finalist in the Fisher Ghost Art Prize, the Blacktown City Art Prize and Little Things Art prize. She has exhibited with Bathurst Regional Gallery, Articulate, Artereal, Chrissie Cotter Gallery, Grace Crossington Smith, St Cloche, Waverly Woolahra and Gallerie Pom Pom. Renuka has been an artist in residence at Arterie, Chris O'Brien Lifehouse Hill End, Fowlers Gap at Broken Hill NSW.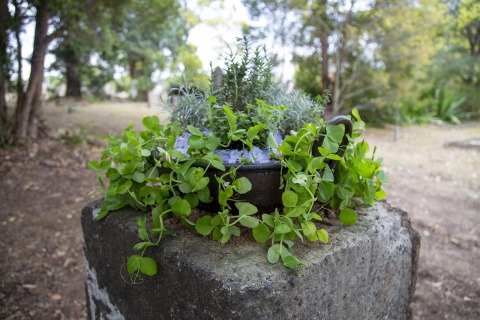 Materials
Pulped paper and seedlings
$300 Sensory Award
Lisa Andrew & Rachel Buckeridge
Manchester: sheets and towels
Statement
"Manchester: sheets and towels" considers the life cycle of materials that are ubiquitous and un-seen. Everyday sheets and towels are a form of material culture associated with the daily acts of bathing and sleeping – intimately relating to our bodies – absorbing water and sweat. Contrasting our responses to these materials in relation to homelessness and to the lifestyle fashions of manchester department stores. Manchester: sheets and towels unmoors these materials from their normal rituals to instead consider their journeys adrift between destinations and arrivals, wanted and unwanted. The act of adorning and vivifying the material through a participatory engagement of dressing-up celebrates the life-cycle of people and things. The artists would like to thank Sam Bury from Just Tube Scaffolding for his assistance with this project
Biography
Lisa Andrew and Rachel Buckeridge collaborate across digital and analogue textile printing to create wearable artworks, which have been exhibited at Articulate Project Space and StoneVilla Wearable Art Prize. Lisa has a PhD from University of Wollongong, she has exhibited at MOP Projects, Conny Dietzschold Gallery and Peloton Gallery in Sydney and Anna Pappas Gallery in Melbourne. Rachel is originally from Perth WA, she has exhibited in Praxis contemporary art space in Fremantle WA, George Paton Gallery in Melbourne, and Carriageworks and Articulate Project Space in Sydney.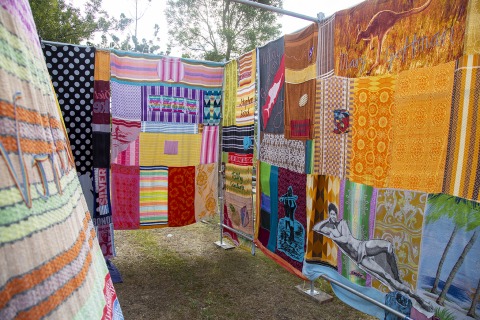 Materials
Second-hand sheets / towels and scaffolding
$1500 HIDDEN Rookwood Films Award
Peachey & Mosig
Some days are better than others
Statement
The sudden, invading sense of weight is impossible to avoid. Everything is recognisable but not quite right, like a waking dream. The loss refuses to be driven out. Over time you move it around trying to find a place where it will sit, maybe not comfortably but at least with a familiarity that you can live with.
Biography
Peachey & Mosig are a creative partnership from the Blue Mountains, Australia. Their practice focuses on human/environment relationships from a range of perspectives. In 2017 they received the Windmill Trust Scholarship, which supported the exhibitions, 'Out of Bounds' at the Blue Mountains City Art Gallery and 'Subversive Play' at Structura Gallery, Sofia Bulgaria. Other recent projects include residencies in Florence and Sottochiesa, Italy and a multimedia installation at the Biennale of Australian Art. This year they are the recipients of the Broken Hill Regional Gallery Residency where they will work in community to create a major site-specific installation.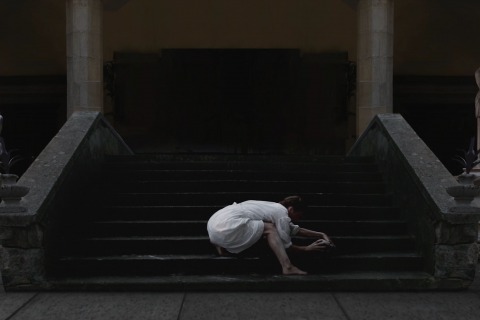 $1000 HIDDEN Western Sydney Moving Image Award
Dante Lee
The Journey of Data
Statement
Computers in the digital world resemble us operating in the physical world. Just as protons, neutrons, and electrons in the physical world form matter, in the digital world images and sounds are formed by flow of data in 1s and 0s. "The Journey of Data" began by recording soundscapes at Rookwood Cemetery. The audio file data, streams of 1s and 0s, was then fed into a computer as a video file. Bit-by-bit, the computer has deconstructed the audio, and pixel-by-pixel it has created the video. The video was then combined with the original audio. There is no obvious resemblance to hint they were built from the substance, but just as living organisms and the earth they stand on, they are very much connected.
Biography
Dante Lee is a Western Sydney based sound artist who is interested in collecting sounds from environments and dialogue, either as a form of documentation or manipulates them to form something new. He is currently completing a BFA at Sydney College of the Arts, University of Sydney. In his recent work 'Sonic Escape' Dante created imaginary landscapes of sound for the viewer to venture through.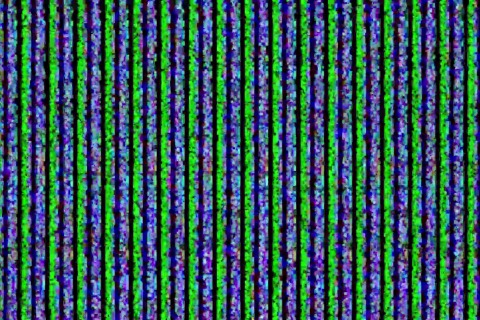 HIDDEN Films Highly Commended
Cynthia Schwertsik
Peri Urban Progress: passage #1
Statement
The "Peri Urban Progress" series reflect on a journey through Adelaide's periphery. Walking on two chairs is my choice of unsustainable transport, though a method to investigate place. I move to the edges of the city and leave remarkable tracks as I hover disconnected from the ground in my elevated position. Along the boundaries, fence-lines and roads, I circumvent the peri-urban and suburban cityscapes. Here, where the landscape is begrudgingly slotted into the built environment, I laboriously make my way. As I wander through space that is claimed for human convenience, I contemplate the bitumen footprint of contemporary lifestyle.
Biography
Cynthia Schwertsik's art practice includes visual art and contemporary performance with participatory inclusion. She has generated an array of projects across visual art, installation, public art and theory, and worked in collaboration with various artists. Cynthia has exhibited and performed in numerous solo and group exhibitions and interventions throughout Europe and Australia. Recently she has undertaken commissions for Australian city councils such as the City of Unley, City of Sydney, City of Port Adelaide Enfield; and has been a recipient of residencies in Johannesburg, South Africa; Monthelon, Burgundy, France; Broken Hill and Kangaroo Island in Australia.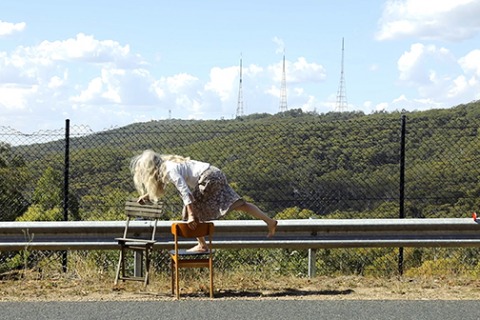 HIDDEN Films Highly Commended
Jacqui Mills
Places That Sometimes Disappear
Statement
"Places That Sometimes Disappear" explores themes of memory, loss and the passing of time. Comprised of a series of still images shot on low shutter speed that have been transformed into video, this work considers photography and video as mediums that inherently deal with time, memory and death. As we recall the past, we are in a sense, moving through memories. "Places That Sometimes Disappear" explores this notion of memory itself as a landscape through which we are always moving, where the past is always present.
Biography
Jacqui Mills is a Sydney based media artist whose work explores memory, loss and the passing of time. She has worked collaboratively and individually on a variety of interdisciplinary performances, videos and installations in Australia. Jacqui is a Masters of Fine Arts graduate from UNSW Art and Design where she received the Deans list Award and the Viktoria Marinov Award for female artists undertaking postgraduate research studies. She has also been awarded the People's Choice Award for her work 'Breath' exhibited in the 2014 Creative Corner Festival. Jacqui recently co-curated the 2018 In Motion festival at Airspace Projects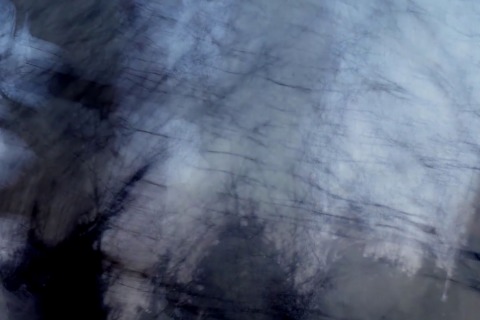 $1000 (materials) HIDDEN Rookwood Students Award
Cabramatta High School
Collective Memory
Statement
A cemetery is place of collective memory, accrued over time and across cultures. Cemeteries bring people together in their stories and these totems pay homage to these memories and narratives. Each component in our totems is symbolic of an individual memory and installed together, they represent "Collective Memory".
Biography
Students: Roza Al-Badri, George Batras, Milan Cajic, Missy Chhuo, Minh Cong Dang, Sotheavy Keo, Nguyen Gia Lam Le, Kevin Lim, George Miljkovic, Ali Miyake, Candy Mok, Duc Tri Nguyen, Emily Nguyen, Ngoc Xuan Mai Nguyen, Misi Alatise Samuelu, Teancum Solomona, Wuttiwit Sukthong Teachers: Sandra van Dyk and Jimmy Nguyen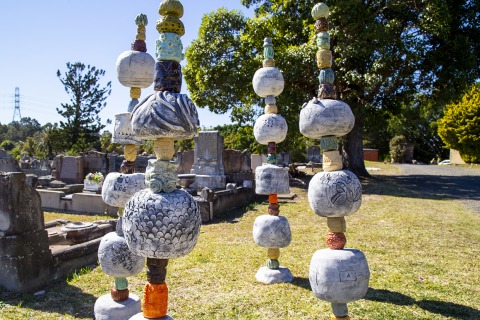 HIDDEN Students Highly Commended
Rouse Hill High School
Blooming Plume
Statement
Feathers are both extravagantly beautiful and incredibly useful. They make flight possible, insulates against heat and cold, and can disguise, camouflage or attract attention. Finding a feather can offer us comfort and validation often when we need it most. Each of these feathers signifies the individual student's interpretation of the world around them. The size, shape and form of the feathers vary and are as unique as is our personal journeys through life.
Biography
Students: Eleanor Foong, Margo Ordemann, Kilaya Puddle, Anais Robert, Cameron Andrews, Aribah Baig, Harrison Burnett, Jack DeMorgan-Hopkins, Ali El-Omar, Casey Epere, Ashleigh Harrison, Abigail Jarvis, Oliva Johns, Storm Kyriacou, Lily Merten-Mast, Maha Naqvi, Jamison Nelson, Ashley Ng, Declan Olivetti, Harri Ryan, Timothy Sawyer, Mitchel Aalbrecht, Chole Barry, Daniella Bruan, Caprice Clark, Alana Cole, Aynslee Francia, Amelia Gabrielian, Dwi Gurtala, Esther Job, Abigail Khashabian, Leayah Leano, Sophia Masood, Isabella Nesci, Lexie O'keeffe, Eloise Osbourne, Jorja Poullos, Renee Quinn, Tristan Sampang, Rhyan Starr, Callum Tymmons, Richard Webb, Montana Williams, Sarah- Rose Wilson, Alex Apps, Sujal Bagga, Bryce Boyd, Joao Costa, Mason Creed, Maddison Critcher, Laila Curry, Lola Egbenoma, Bianca Giunta, Dee Jomaa, Madison Nichols, Mackenzie Nowland, Kiara Oalin-Phillips, Alicia Osborn, Abbygail, Ostler, Ruby-Rose Owen, Hannah Peck, Lachlan Reedy, Hayden Samuels, Riley Wood. Teachers: Emma Devine and Samantha Kirby
Materials
Bisque fired and glazed ceramics
$1000 People's Choice Award
Devine Panic (Emma Devine & Samantha Kirby)
Beneath the Plume
Statement
Feathers have quirks, strengths and fragility – while these intricate structures have many different meanings – they have always been associated with freedom, the intangible and connecting with the past. Often, seeing feathers on our path is a message from a loved one or a sign of a life before. Feathers become a reminder to be present in the moment and to appreciate the intricacy of life. Beneath the Plume represents feathers in the form of angel wings, to symbolically represent this spiritual connection.
Biography
Devine Panic is a collaboration of two art teachers from Western Sydney, Emma Devine and Samantha Kirby. Having come from installation practices, they both draw upon their wealth of teaching experience to create artworks that push both the material and conceptual boundaries of visual arts. Through connecting with the community, Devine Panic seeks to inspire students to see the value in creating art and 'practicing what you teach'.
General Photography Competition
First Place
Melanie Beattie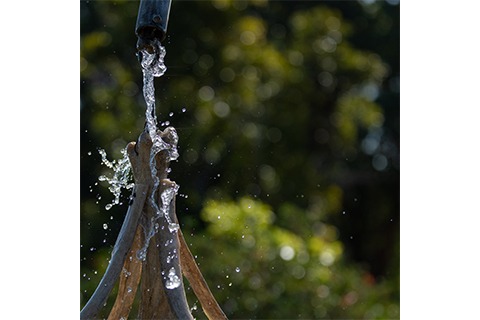 General Photography Competition
Second Place
Lexi Spooner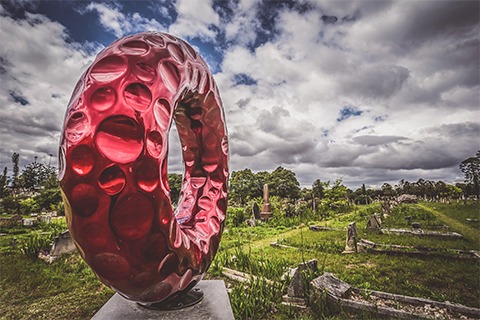 Youth Photography Competition
First Place
Richard Trang