WINNER - Muru Award
Mother Scar Tree (2022)
Mirrored acrylic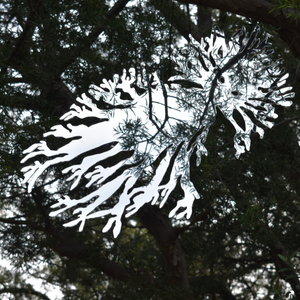 Mother Scar Tree is an acknowledgment to the Dharug people who have held the knowledge on how to care this place for thousands of years. The female spirits are our ancestors they are hiding in plain sight. It is only when you stop to listen and watch that the spirits reveal themselves. They represent Aboriginal culture, effortlessly camouflaging and complementing the existing landscape, creating symbiotic relationships that has lasted for 100,000 years plus. The answers on how to care for the country have been ignored for 251 years and we are now at a deficit. It's time to listen to culture and act before it's too late.
---
About the Artist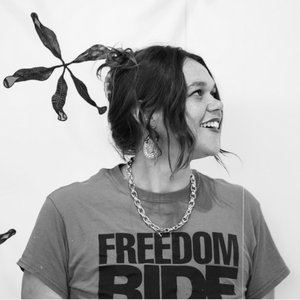 Maddison Gibbs is a proud Barkindji woman, currently living on Gadigal Country in Sydney. Maddison's artworks are based on her culture and surroundings, engaging with vital activism and culturally feminine intuitive visual poetics. She has studied at UTS and Eroa College. Maddie is a member of Boomalli Aboriginal Artists Co-operative and has exhibited in 'No Show' at Carriageworks; the Vivid Light Show; Sydney Fringe Festival; Hobiennale at Moonah Arts Centre Tasmania; and RANZCO Live Painting at the MCA. Maddison has been awarded the 2019 Australian Museum Young Indigenous Artist Fellowship; the Rotary Club of Sydney Soukup Animation Grant; the Bob Morgan International Scholarship and Winner of the Yapang Emerging art Prize, Lake Macquarie.
---
Transcription
I would like to acknowledge country and the Dharug people of this land. I would like to acknowledge ancestors, past, present and emerging, who paved the way for us to continue culture and continues telling aboriginal stories today. My name is Madison Gibbs and I'm a Barkandji woman. The artwork created is called Mother Scar Tree and has a call to action for us all to listen.
The Aboriginal matriarchy has held the knowledge of this land and how to care for country for thousands of years and it is now time to stop, recognize, listen and act. I drew these spirit figures sitting in nature listening, listening to country, listening to the birds, listening to the water, the land, the sky, the sea, the people and what is on country now? Death, destruction. Mother Nature is angry, she's upset, she's sad.
We're not listening, we're not doing enough. I encourage everybody to sit down to think about their accountability, to think about how they contribute to the health of this country, to all of our health. The nature has the answers. It's time for us all to listen.