SOPA Artist at the Armory Award Winner
Clara Adolphs
Headstones
Statement
My practice explores the notion of memory, and the fragile, fleeting existence of humanity. I am fascinated by the question of what remains, after a moment in time passes. Having family members buried in Rookwood, I have a strong relationship with the space. The cemetery itself is an environment like no other, it has a powerful feeling of dormant, yet permanent life. My pieces are an expression of this notion. Life suspended in time. My sculptures are directly related to my painting practice. I create figures with life, but shy away from direct likeness and specific detail. I want my materials to have enough movement of their own to create this life.
Biography
Clara Adolphs is an artist based in the Southern Highlands of New South Wales. Clara completed her bachelor degree in Fine Arts at the University of New South wales in 2008. She has since held three solo exhibitions with MiCK Gallery in Sydney. Figurative painting is her primary practice, but has recently branched out into sculpture. Clara has been a finalist in numerous awards including the Archibald Prize and Brett Whiteley Travelling Scholarship, and won first prize in the BDAS Sculpture Prize in 2014 and the Mosman Art Prize Emerging Artist Award in 2012.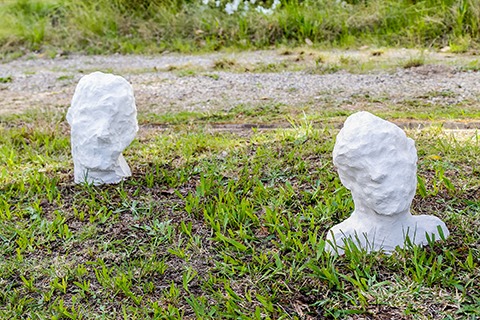 Peacock Gallery and Auburn Arts Studio Residency and Mentorship Award Winner plus People's Choice Award Winner
Rachel Sheree
Peace in Death
Statement
Rachel Sheree is a mixed media, 3D and experimental artist heavily influenced by the natural world. Peace in Death is an artwork that embodies love and death through remembrance where a body is immortalised in 'stone', never ending, never dying, whilst at the same time being reclaimed by the earth signifying the cycle of life, with flowers representing love and an overflow of affection. This artwork creates a sense of forever, of one never being forgotten.
Biography
Rachel studied a Bachelor of Fine Arts Studies at the University of Western Sydney, before completing her Honours degree in Visual Arts – Object and Design at Sydney College of the Arts. She has had a number of exhibitions across Sydney and London, including the group exhibition 'Grounded Light' at the Brick Lane Gallery in London and the group exhibition 'In The Beginning' at the ArtSHINE Gallery in Chippendale to celebrate the launch of CoSydney – a co-working space for artists and creatives. In 2013 she also was Highly Commended for her sculptural work 'Bumper Bark 2013' in the Blacktown City Art Prize.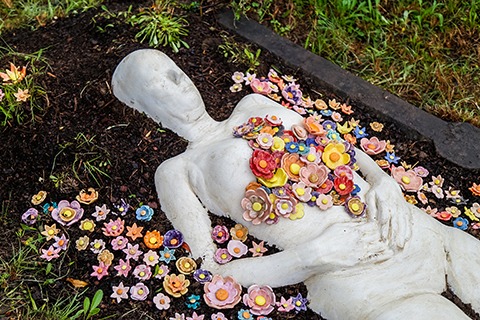 Materials
Ceramic, plaster and dirt
$10,000 Rookwood Cemetery Sculpture Award - Joint Winner
Adam Galea
Speak with Dead
Statement
Ancient Mesopotamians believed that the netherworld was located only a short distance beneath the earth's surface.
Biography
Adam Galea has a Diploma of fine arts from St George TAFE and a Bachelor of fine arts from the National Art School, majoring in sculpture. He won first prize in the Rockdale Outdoor Gallery Art Prize and The St George Art Prize 3D category in 2014. He has been a finalist in other sculpture exhibitions including Sculpture @ Sawmillers, Harbour sculpture and Cooks River Small Sculpture Prize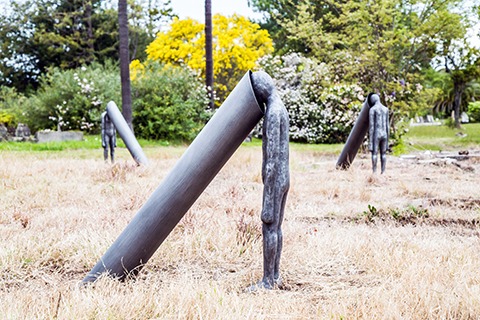 Materials
Concrete, PVC, Steel and exterior paint
$10,000 Rookwood Cemetery Sculpture Award - Joint Winner
Angela Bekiaris
A Study of Convergence
Statement
35 million people travel the world each year through human trafficking. 800,000 people travelled to Germany this year, seeking asylum. 30,000 people sought asylum in Australia last year. We share this planet with humans other than ourselves. Strangers converge together in a single moment of confluence and then disperse; at a bus stop, a shopping mall, an airport. Within these congregations we carry our stories like mud on our back as we continue the journey. Every human has a story, a scar, a smear of mud across our brow, each equally important as the next. Do we accurately perceive the enormity of human movement around the world? Do we acknowledge the enormity of every story? Of course not, there are 7 billion of us.
Biography
Angela Bekiaris is a sculpture/installation artist who is currently completing a Master of Art at UNSW Art + Design. She explores concepts of interconnectedness which all people experience, regardless of race, religion or colour. This is explored through meditative movements and alchemic art processes in her work.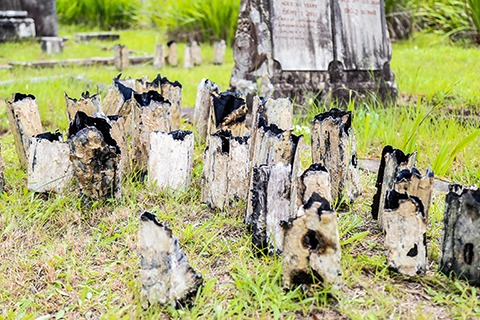 Materials
Card, recycled clay, resin and sugar
Highly Commended
Alessandro Berini & Selina Springett
Shades
Statement
I walked a mile with Sorrow And ne'er a word said she; But oh, the things I learned from her When Sorrow walked with me! --Robert Browning Hamilton. All traditions, all customs have words which resound over our passings. Words spoken to comfort; words of solace. Their meaning floats like shades out into the universe, songs made so by our singing. Not only in the moment but past our own lifetimes. What is left when there is no more? Only shades of our departing.
Biography
Alessandro Berini and Selina Springett's work explores ways of representing environmental and social issues through sound based installations, radio and public art works. Their work has won a number of awards including International Women's Day Art Prize, Cooks River Art Prize, Wildflower Art and Garden festival Art Prize, Rockdale Outdoor Gallery Art Prize, Sculpture at Scenic World Artist's Peer and Staff Choice award and SWAP Sustainability Prize.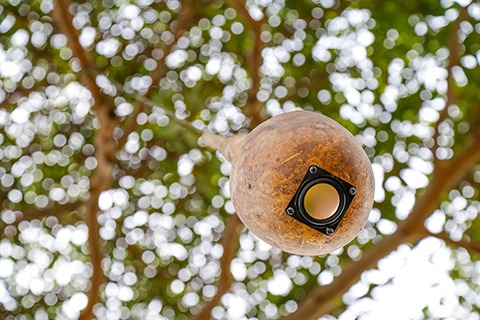 Materials
Audio composition, 12 x re-purposed gourds, speakers, amplifiers, microcontrollers, sensors and solar panels
Highly Commended
Gary Deirmendjian
strata - rookwood
Statement
The pit holds bare the actualities of our ways … stuff ... owned and thrown ... all now of equal value ... unprejudiced worthlessness of cost and consequence. Our collective behaviour in having become obedient mass consumers, appears to have been teased and ushered ... oh in so very slow and deliciously clever ways. Neither mass production nor mass disposal can possibly come free from the shackles of supremely rational and inevitable consequence.
Biography
Working predominantly in public/shared space, Gary is broadly recognised for creating thought provoking works that are physically and conceptually challenging. He has exhibited extensively and received numerous awards and new work invitations and commissions for private and public artworks, as well as site-specific projects, realised broadly in Australia and several internationally. He holds an MFA in Sculpture from the National Art School (2006), where he is currently a Lecturer. Prior to turning to full-time artistic practice, he trained as an Aeronautical Engineer (Honours, UNSW, 1990) becoming significantly active in Defence R&D and then Industrial Design through establishing private practice and teaching (Lecturer, UWS, 1996 - 2001).
Materials
Non organic household rubbish salvaged from the streets; toys, electronics, furniture etc.
Commended
Kirsty Collins
Tears & Courage
Statement
Kirsty's artworks are a series of ongoing creative experiments that seek self-transcendence beyond the individual's ego. A practice in making and finding meaningful connections. Tears & Courage is inspired by the book Man's Search for Meaning. "But there was no need to be ashamed of tears, for tears bore witness that a man had the greatest of courage", Viktor E. Frankl. Psychiatrist Frankl survived three years in concentration camps during World War 2. Writing from both a personal and a professional perspective he explains how we can find meaning in our lives even when we feel hopeless, sick or dying. His writing has helped in her life with a child with Autism and losing her hearing.
Biography
Kirsty Collins is an artist working in Sydney in painting and multi-sensory sculpture. With a Masters of Fine Arts in Electronic Art at SCA and doing a diploma in ceramics at TAFE. Her work has been exhibited at Leichhardt Fringe Festival, Beams Art Festival. She has collaborated with Sandra Winkworth on a joint exhibition, Ornitho-logical. Kirsty has been a finalist in the Melbourne Laneways Art Commissions. She has had artworks selected for the exhibitions Hatched and Drift at the Perth Institute of Contemporary Art.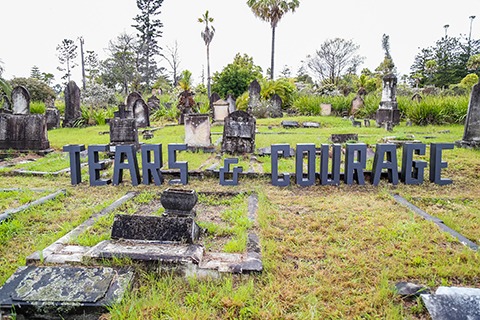 Materials
Aerated concrete, steel reinforcement, consecrated earth, paint and sand
Commended
Jan Cleveringa
The Passing
Statement
Jan Cleveringa is a contemporary artist who explores impacts of global cultural change and identity. The Passing is made from fluorescent light bulbs which are being replaced by LED lighting. The Installation is a representation about slow cultural change, waste and renewal. It raises questions about time, sustainability, the environment and the machine of business. It is about recognising the impact of changing technologies on our culture, our attitudes and social patterns and what drives these changes. It is a slow phenomenon where most of us seem oblivious to its effects in the many areas of human interaction like industry, the home and our future. Will it change architecture, the backyard BBQ, mining, travel and reception areas? Are we recognizing these changes and impacts?
Biography
Jan Cleveringa, (b. 1969), has a Bachelor of Arts from University of Sydney. He has an emerging arts practice and has been a finalist in numerous Sydney prizes such as the Mosman Art Prize, Blacktown Art Prize and the Campelltown Art Prize. He has been commissioned for public artworks by Landcom and by Blacktown City Council. He has been awarded three Studio Residencies and recently received a grant from the Blacktown Arts Centre 2016.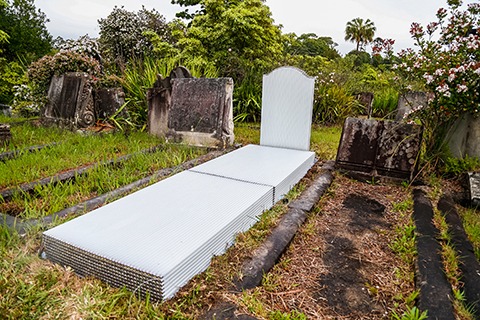 Materials
Flourescent light globes, wood panel, Branches, woodchip, Silicon glue and resin