$10,000 Rookwood Sculpture Award
Celine Cheung
River of Oblivion
Statement
"We were particularly taken with Celine Cheung's contemplative work, River of Oblivion, and her considered reflections on ritual, family and culture. The location of the work inside the restored Grave Diggers Hut provided a quiet moment to observe Cheung's 99 fluid sigils – based on Buddhist auspicious symbols – floating along white chiffon, like souls passing through to the afterlife in an underworld river." - Tian Zhang & Hannah Donnelly, judges.
Biography
Celine Cheung has Hong Kong-Chinese and Australian ancestory, she lives on Dharug Land in western Sydney, NSW.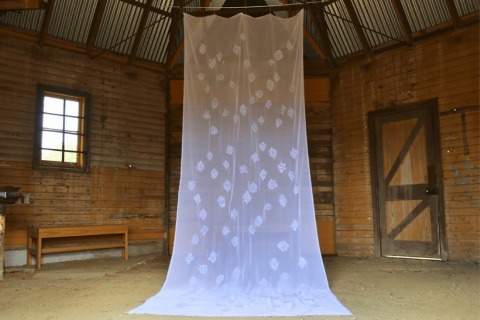 Materials
Thread, EVA glue, organza chiffon
$2,000 Muru Award
Virginia Keft
The Colony
Statement
"I'm a Saltwater Freshwater Dharug Woman, so Virginia Keft's beautiful woven bats are really special for my people and significant to my mob: flying foxes are a very strong male totem. We can actually see so many of our family's personalities in these little fellas. I really love this piece, I love the colours, the work itself, the stitching and the weave. The colours – well, that's Dharug mob – we're all different shades and different colours, and we all have our uniqueness. Yet we're all combined and one. Congratulations, Virginia Keft, and thank you for entering HIDDEN with this beautiful work, we're so privileged to host it on our Country." - Julie Clarke-Jones, judge.
Biography
Virginia Keft is a Muruwari woman, who currently lives on Dharawal Gadigal Land in Sydney, NSW.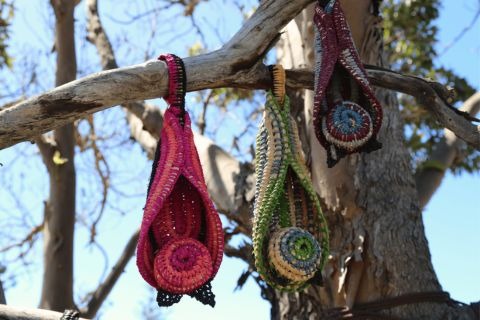 $1,000 Nerine Martini Memorial Award
Karlina and Lee Mitchell
Moce
Statement
"This large-scale work, activated by the landscape and wind, conjures elements of the artists' family's Fijian cultural practices - as well as engaging with local communities to share in making and contributing memories of passed loved ones into this bright and poignant sculpture."
Biography
Karlina Mitchell was born in Nausori Fiji and her vanua is from Vunivaivai Village, Nausori. Karlina Mitchell and Lee Mitchell live on Dharug and Gundungurra Land in the Blue Mountains, NSW.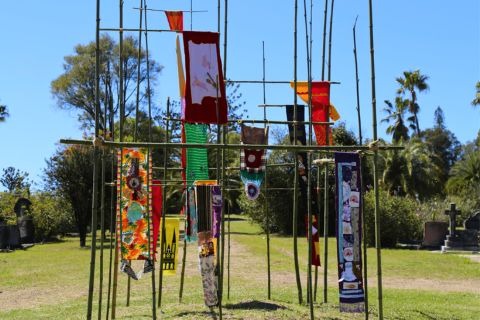 $1,000 Western Sydney Artist Award
Leyla Oz
Kefen - Nothing but a few pieces of cloth
Statement
"Leyla Oz's work Kefen - Nothing but a few pieces of cloth engages architecture, sculptural installation and culture. In a generous and poetic way, she shares an element of her religion, the Islamic burial tradition, where you take nothing to your grave except for the 5 pieces of cloth that your body is wrapped in."
Biography
Leyla Oz is Turkish, Muslim woman who lives on Wangal Land in Western Sydney, NSW.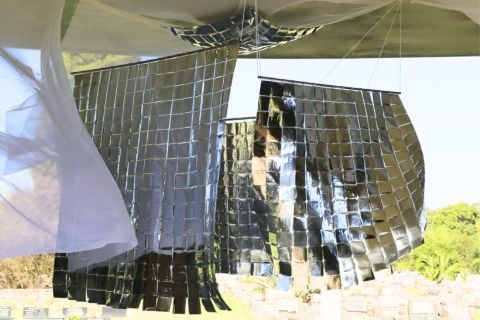 Materials
Cotton sheets, mirror polished mylar, steel fixings, exterior rated wire, incense and non-alcoholic perfume
$1,000 Emerging Artist Award
Kumiko Delaney
The Unwind in Nishitokorozawa
Statement
"Kumiko Delaney has recreated her memory of the love she feels when visiting her grandparents in Japan, particularly her grandmother's home cooking transformed into a ceramic still life. This work playfully conjures the transience of memory, inevitable mortality and familial culturally specific expressions of nurturing and care."
Biography
Kumiko Delaney has a Japanese mother and father of Irish descent. She lives on Gadigal Land in Sydney, NSW.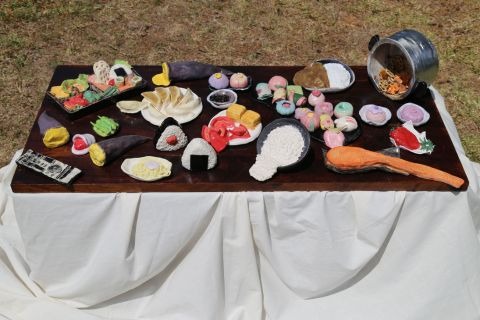 $1,000 Beautiful Farewells Funeral Director Award
Lachlan Bell
Sinililled silmadele (Blue Flowers For Eyes)
Statement
Judge: Diane Luccitti said "People who are dying worry they will be forgotten. The Beautiful Farewells Award is awarded for how we honour our dead and keep them in our memory. I chose this work, Sinililled silmadele (Blue Flowers For Eyes), because it represents a lesser known group of freedom fighters from the Baltic Wars, relatives of the artist Lachlan Bell. In judging this work, it spoke to me in a way that I find hard to describe. However, Lachlan's ability to honour distant relatives from almost 80 years ago ensures that they are not forgotten."
Biography
Lachlan Bell has Estonian ancestory and lives on Wallumedegal Land in the north west of Sydney, NSW.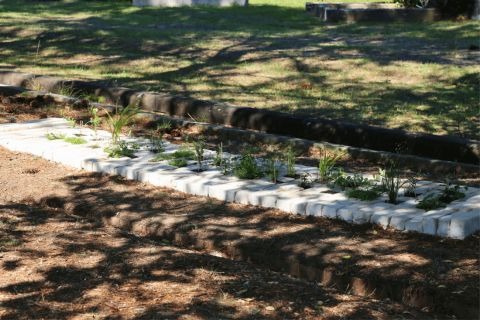 Materials
Recycled white calsil bricks, endemic flora plantings, soil
$1000 Rookwood Stonemasons Award
Sach Killam
Gothic Window
Statement
The judges said: "Sach Killam's level of commitment to actually carving a gothic decorated feature, a whole rose window, is quite a demonstration for a bank mason and carver. It's been beautifully executed, with details such as the winged hourglass - a lovely bit of symbolism in the setting of HIDDEN. It is a highly decorated piece and an excellent demonstration of a mason's skill."
Biography
Sach Killam was born in Canada and now lives on Gundungurra Land in the Blue Mountains, NSW.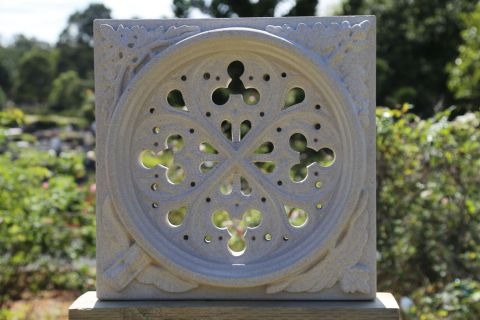 Materials
Sydney yellow block sandstone
Highly Commended, Rookwood Stonemasons Award
Daniel Kilminster
Winged Lion
Statement
This winged lion in a sitting pose, is inspired by a number of gothic winged grotesques that I have admired from my research on Gothic Architecture. I have been working in heritage stone masonry for 10 years. I'm currently working for Stone Restorations who are based in the Central Tablelands but have worked all over NSW. We specialise in the repair and restoration of heritage buildings, notably the Bathurst Courthouse and the Cathedral of St Michael and St John, Bathurst.
Biography
Daniel Kilminster lives on Wiradjuri Land in the Central Tablelands, NSW.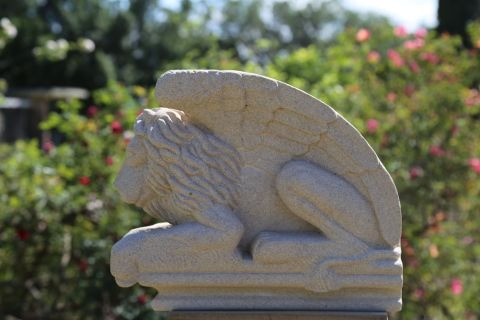 Materials
Sydney yellow block sandstone
30-Year Anniversary Stonemasons Apprentice Award
Daniel Tranter-Santoso
Bare Gothic
Statement
The judges said: "Daniel Trento Santoso has concluded a rock-faced broken finish, which is a great reflection of the broken column, a type of carved symbolism often found in the cemetery setting."
Biography
Daniel Tranter-Santoso lives on Dharawal Land in south western Sydney, NSW.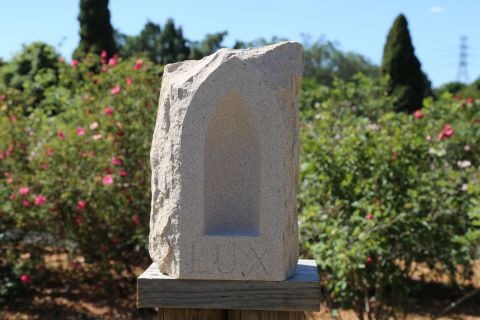 Materials
Sydney yellow block sandstone
Rookwood Schools Award
Ashfield Public School
Intersections
Statement
Judges: Wendy Ramsay and Helen Yip said, "Intersections speaks to the diverse journeys and stories that intertwine over time, metaphorically embodied in the collaborative process of stitching. Created from reclaimed materials, this installation incorporates transparent netting and layers of fabric that invite audiences to peer through and contemplate the surrounding site. Connecting individual and collective experiences, Intersections prompts us to pause and consider how we respond to each other and build inclusive communities."
Biography
Ashfield Public School is located on Gadigal Wangal Land in the inner west of Sydney, NSW. Teachers: Karen Manning & Jane Bennett. Students: Whole School Collaboration, with students from Years K – 6.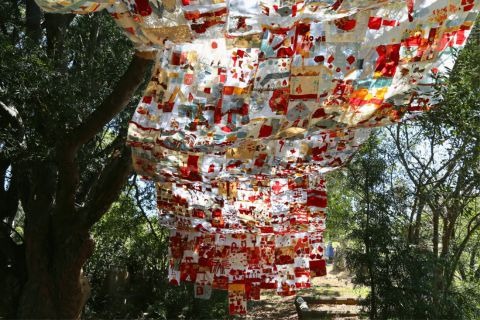 Materials
Reclaimed netting and scrap fabrics, wool, thread, embroidery thread